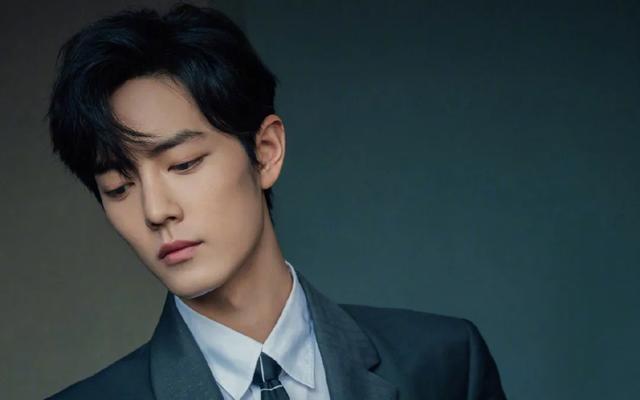 Recently, Xiao Zhan was seen to have participated in the recording of the variety show, "Youth Periplous 2." The programme by Zhejiang TV explores cultural tourism, where the show hosts visit various parts of China to learn about the history and diversity of the Chinese culture.
Previously unseen photos of Xiao Zhan in Sanya, Hainan attending the filming for the programme surfaced around mid-May.
Though his guest appearance was neither officially announced by the show's official Weibo page or ZheJiang TV, many fans have been eagerly looking forward to Xiao Zhan's appearance in the show. Rumours that he would appear on the show seemed apparent as a Zhejiang TV staff teased his appearance in a post.
#XiaoZhan recently sighted at the airport as he attends filming for "Youth Periplous 2."

According to Sina news, he was wearing a white shirt looking clean and refreshing, with a mask on and a pair of dark sunglasses. pic.twitter.com/tcMLLgIzu8

— Daily Cpop News (@DailyCpop) May 22, 2020
Yet, when the first two episodes of the show were aired, Xiao Zhan did not appear in the part of the program that was filmed in Sanya at all. At the end of the second episode, the filming location was announced to have moved to Yangshuo, a County near the Guilin Region.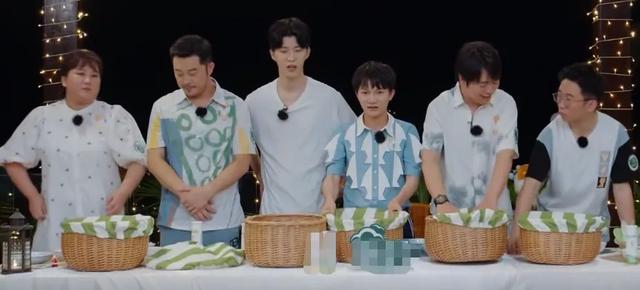 The show aired its second episode this week without any trace of Xiao Zhan's appearence
It was rumoured that the show also filmed a back-up episode where Xiao Zhan's presence was completely removed. As the parts of the the programme that were filmed in Sanya excluded Xiao Zhan's appearance completely, it is unlikely that Xiao Zhan would be appearing in the later episodes. Fans alleged that the show had chosen to air the back-up episode instead.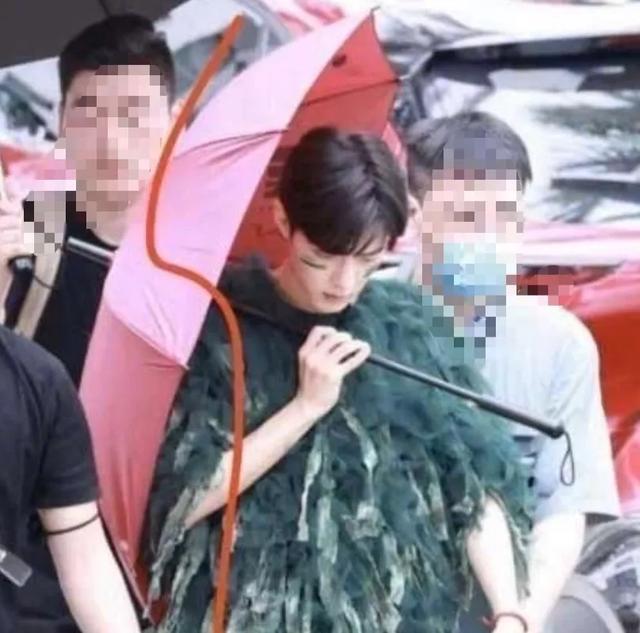 Photos of Xiao Zhan recently captured were from his appearance in Sanya.
Upset, many fans immediately took to posting on Zhejiang Satallite TV's Baidu bar, accusing the variety show of deliberately trying to raise the hopes of fans just to get more viewership.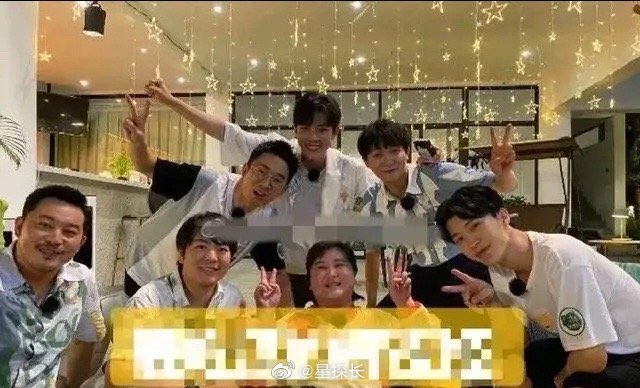 Netizens uncovered a photo of Xiao Zhan posing with the cast of "Youth Periplous 2"
Some viewers also opined that that the Chinese entertainment industry is extremely unjust. They felt that it was unfair for "Youth Periplous 2"  to cut out Xiao Zhan screen time completely. Xiao Zhan has never gotten involved in vices such as committing crimes, taking drugs or getting remotely involved in activities that put him in the negative light. The decision of the show to invite him onto the show only to erase his presence completely was a move that fans felt was too radical.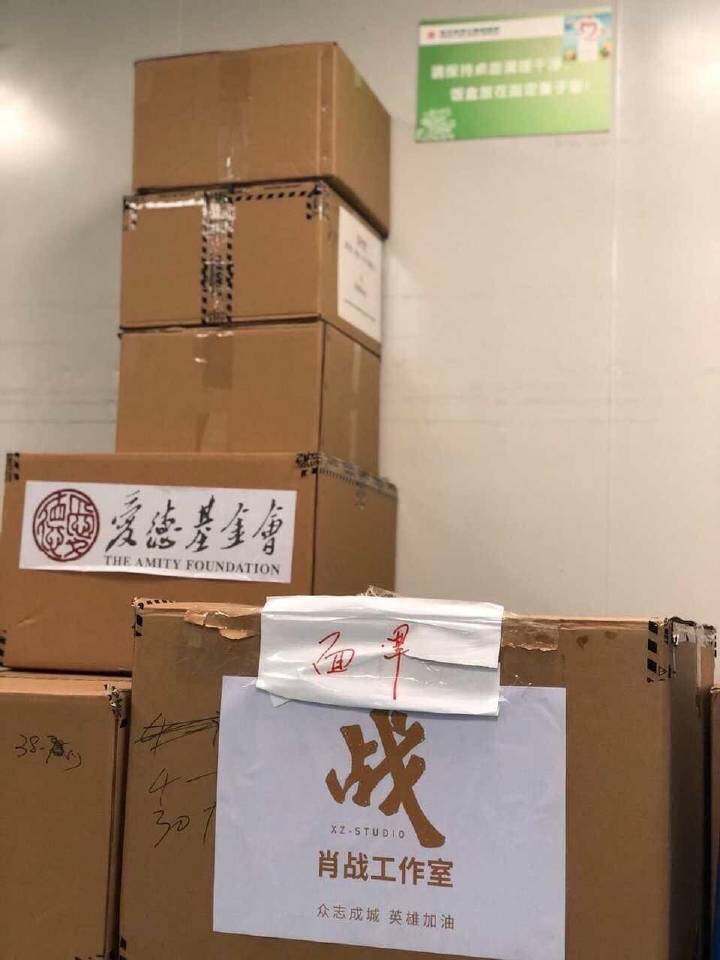 Xiao Zhan donated medical supplies to hospitals during the epidemic (in a post shared by a Weibo user)
Moreover, Xiao Zhan has also always been enthusiastic about charitable causes. Recently, he appeared at a poverty alleviation event to pledge his support for its cause. Earlier this year, he also made low-profile mask donations made to hospitals during the epidemic. It was a far too drastic decision for the show to cut his scenes from it entirely.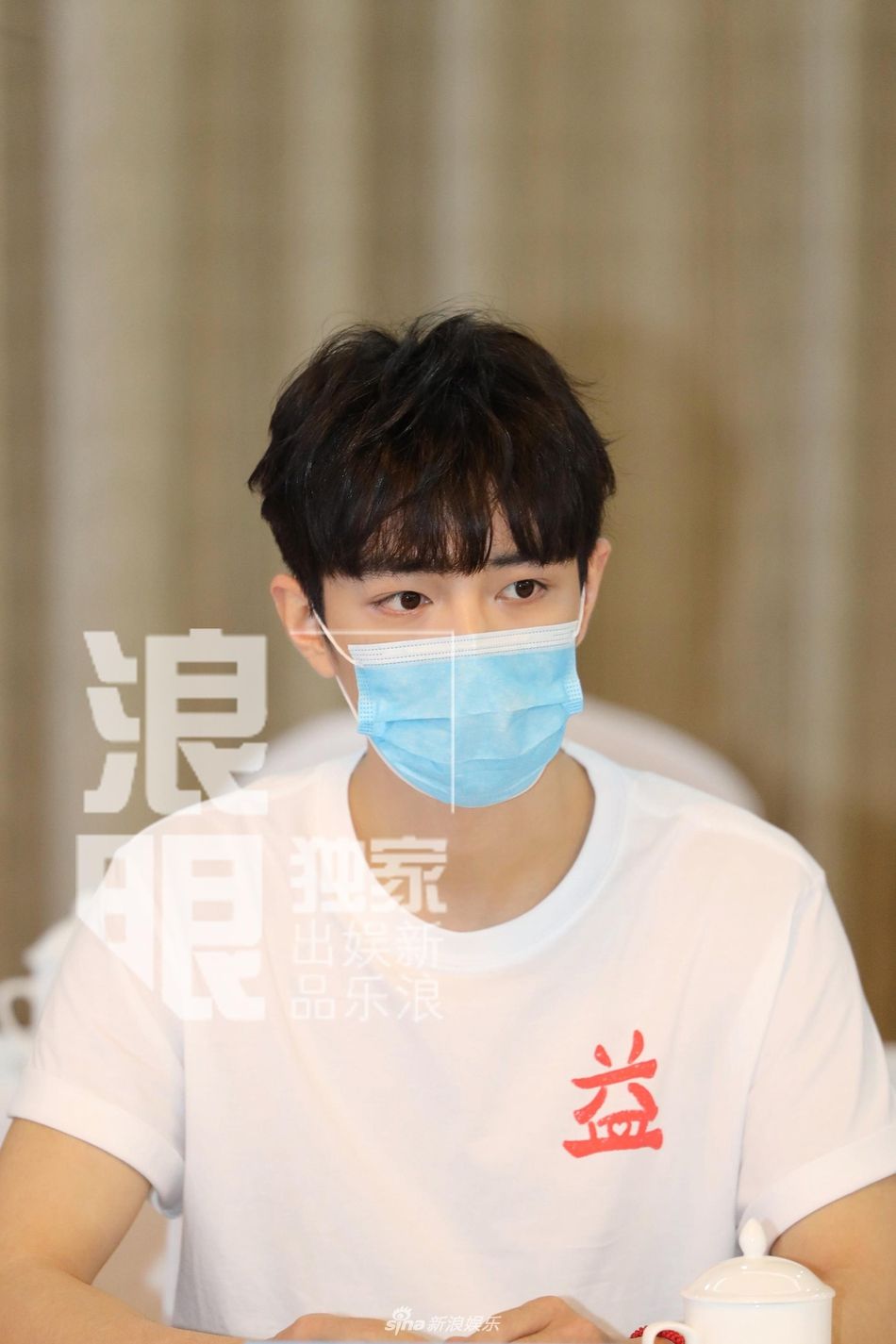 Xiao Zhan recently attended an event to support poverty alleviation in the agricultural and rural regions in China.
Zhejiang TV's Baidu Bar representative makes a post to 'gently reassure' Xiao Zhan fans
To address the backlash, the representative of Zhejiang TV's Baidu Bar posted a special message to comfort angry fans of Xiao Zhan.
They expressed that the show could empathise with the sense of "helplessness and sadness" felt by his fans, and that they accepted their cause for complaints. They also conceded that the show did indeed invite Xiao Zhan to film for the programme. However, extraneous circumstances resulted in the production crew to cut out his scenes completely. These circumstances were not just limited to the anti-fans who called up the TV channel to express their disapproval of his appearance, it also included immense pressure placed on Zhejiang TV by its advertisers and partners.
If the sole reasons were because of negative reception from the anti-fans, Zhejiang TV would not have wasted its time and resources to invite Xiao Zhan to film the show. Firstly it was expensive to invite celebrity guests on the show and that secondly, to purchase two months worth of "hot search" on Weibo would be a waste of their time and money (i.e. to spend so much for the sake of deceiving fans into lifting their viewership was irrational). Thirdly, this would lead the show to get criticisms from both fans of Xiao Zhan and his anti-fans.
The staff ended off their post in the Baidu bar by saying that Zhejiang TV had no choice but to remove Xiao Zhan's scenes from the show, due to intense pressure exerted by external parties.
Ever since the AO3 Controversy ("227 incident"), Xiao Zhan has become the constant target of hateful comments on the Internet. When rumours began to surface that Xiao Zhan would appear in "Youth Youth Periplous 2", the anti-fans immediately launched a "boycott" and smearing campaign, claiming that they would stop watching ZheJiang TV if he were on the show.
Zhejiang TV's Baidu Bar representative originally hinted at Xiao Zhan's appearence
Once again, although the program did not officially announce that Xiao Zhan would join the show, the main representative of Zhejiang TV's Baidu Bar shared a cartoon drawing of Xiao Zhan alongside the official line-up of the program.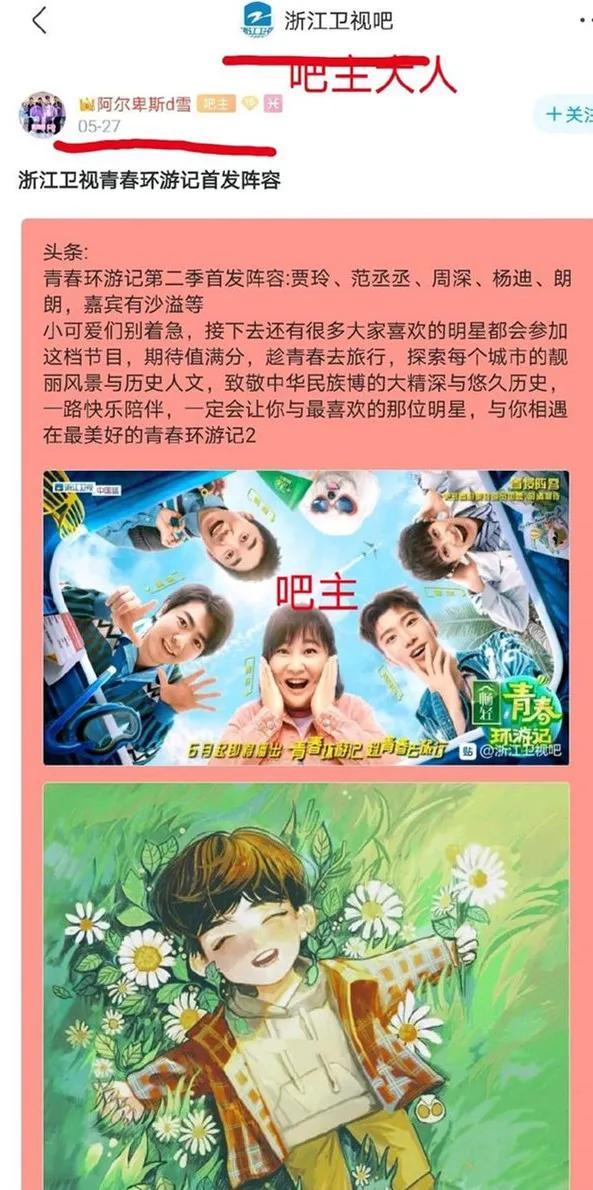 The staff of Zhejiang TV's bar posted a teaser cartoon drawing of Xiao Zhan along with the official announcement of the line-up for the variety show, "Youth Peripulous 2"
Eagled-eyed fans of Xiao Zhan also matched the cartoon imaged used by the TV staff with the original drawing by the artist.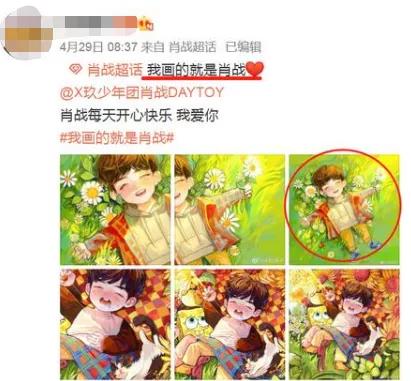 The cartoon drawing was originally posted by a fan artist of Xiao Zhan's on his super topic page
These drawings by the artist was originally posted to Xiao Zhan's super topic. Fans went on to conclude that Zhejiang TV had intended to quietly "tease" Xiao Zhan's appearance on the show through the post on its Baidu Bar.
Zhejiang TV Baidu Bar representative makes a second post
In a second response, this time to address the 'problems' that arose in"Youth Peripulous 2″, Zhejiang TV Baidu Bar representative made a second post.
They asked their audience to tune into watch variety shows after completing their studies and doing their work. Although the show's ratings are high and their viewers are happy, the fate of the show is not dependent on the show ratings alone.
It was also emphasised that threats by anti-fans and their attempt to boycott "Youth Peripulous 2" will not affect the show and that the show will not pin the blame on any celebrity if the received low ratings. If their audience should decide to watch "Youth Peripulous 2" for a certain guest star, they should only take the news of the guest star's appearance seriously when it is announced through official platforms.
That said, the Zhejiang TV Baidu Bar, although run in part by official staff members, remains an informal gateway between TV channel and its viewers on Baidu. Even if an announcement were to be posted by a staff member, it is by no means an 'official announcement'.
The post ended off saying that if none of the "highly anticipated celebrities" showed up, fans ought not to be anxious or depressed. Though the show's post did not allude to any celebrity in particular, many read the message as one that was intended to "comfort" the fans of Xiao Zhan.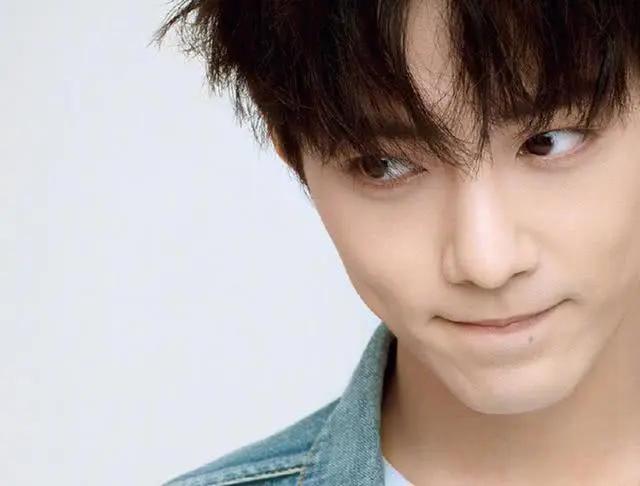 Fans were understandably disappointed when Xiao Zhan's did not appear on the past two episodes of "Youth Peripulous 2"
Fans were left understandably disappointed as all footages of Xiao Zhan were entirely removed from the programme. Many felt that their hopes were falsely raised after the "teaser" image of Xiao Zhan was shown in the Zhejiang TV Baidu Bar.
Some lamented that Xiao Zhan's efforts had all gone down the drain, as the show that he made an appearance for did not even give him a short appearance in the programme.
At the end of the day, some fans felt that Zhejiang TV did not make an official announcement to confirm Xiao Zhan's appearance in the first place, so there was no need to "anticipate" his appearance at all. Even if he did appear, he would have received his fair remuneration. Whether the show chose to give him air time or not did not matter.
While the situation is unfortunate for all parties and especially for fans who eager to watch the show, we can only remain patient while waiting for Xiao Zhan's return on screen. During this period, we hope that fellow fans of Xiao Zhan can continue to heed the advice of their idol to work and study hard while anticipating more works from him in the future.
---