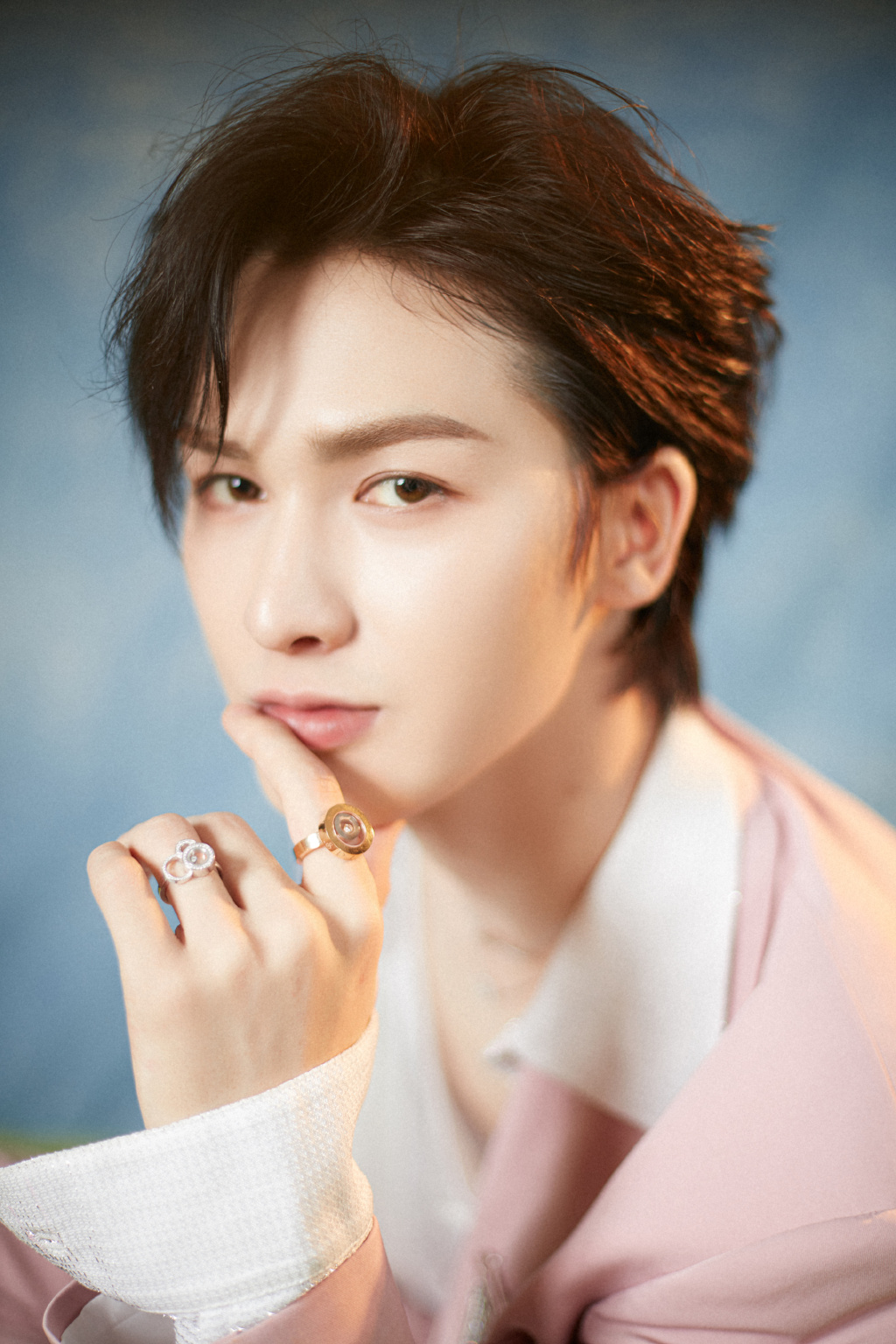 Name: Zhu Zhengting
Chinese Name (Simplified & Traditional): 朱正廷
Nicknames: Zheng Zheng 正正 / Beibei贝贝 / Theo Zhu
Nationality: Chinese
Gender: Male
Birthday: March 18,1996
Place Of Birth: Ma'anshan, Anhui, China
Blood Type: O
Zodiac Sign: Pisces
Chinese Zodiac Sign: Rat
Height: 183 cm
Weight: 62 kg
Occupation: Singer, Dancer, Artist/Actor
Group Position: Leader of NEXT
Agency: Yuehua Entertainment
Associated Acts: Nine Percent, NEXT aka 乐华NEXT (Active)
Zhu Zhengting Facts
– He has an eight-pack abs since he was 12.
– He learned Chinese traditional dance at 8, Ballet at 12 and Modern Contemporary Dance at 15.
– In 2014, he was admitted to Shanghai Theater Academy as the first Chinese dancer major. In the same year, he was the champion of the first Chinese Dance Theater Competition and the National Vocational Vocal Skills Competition.
– His English name is Theo Zhu (formerly Austin Zhu)
– He is an anime figure collector, a weeb and an anime otaku
– He won 6th rank in Idol Producer and became a member of project group Nine Percent (now disbanded).
– He once joined Produce 101 Korea S2, he went by the name Jung Jung, finished at 51st rank.
– He's very flexible, a good cook and  is easily terrified but still loves to watch horror movies.
– Zhengting has 3 dogs: Wubaiwan, Fuli, and Guoba.
– He also owns 4 cats: Louise, Pipi, Yuumi, and DD (even though he is allergic to them) previously it was 5 but Shiyi passed away.
– He has a big aquarium with 2 clownfish, 2 seahorses, 1 small crab, 1 sea urchin and a snail.
– Zhengting has one tattoo on his hip, previously tattooed as "Mr.Nice", now covered by a Feather Tattoo.
– He knows how to speak in Mandarin, Korean, and English
– His hobbies are dancing, singing, swimming, watching movies and reading novels.
– He doesn't like/doesn't eat raw fish.
– He knows how to play the piano and is learning music composition and his brother in law is his teacher.
– He is always involved in all of the songs he releases, from the music, lyrics and overall performance
– He is allergic to peanuts
– He drinks warm milk before going to bed, and he loves milk tea with pudding and additional bobba in it
– He likes to do arts and crafts on his free time to distress (oil painting, scented-candle making)
– He is into training in martial arts and boxing
– Zhengting loves to travel and his favorite city is Paris
– He likes to play mobile and online games
– He gets startled easily
– A certified animal parent and lover
– He came from a well-off family and his parents are very private people
– Zhengting has a room to himself in NEXT dorm
– Zhengting shared a room with Justin and Cheng Cheng back in Nine Percent's dorm
– His motto is "The curtain to life's stage can be open any time, the key is your willingness to perform or choose to avoid it"
– He graduated in Shanghai Theater Academy as the Top 1 student while still being a trainee.
– He always receives high praises from his co-stars & co-workers from the director, the artists to the production team and crew for being professional, punctual, skillful, down to earth, approachable and respectful.
– He often receives compliments like "he is not just a handsome face, he is hardworking and capable."
– Other than NPC, NEXT, Idol Producer trainees being his close friends, he is also close friends with Huang Zitao, Ai Lun, Ren Jialun, Jason Zhang, Xie Na, Zhang Yujian, Seventeen's Wen Junhui and  Cheng Xiao
– He always say that he has no bad angles and he looks good 360′ in any pictures
– Zhengting may look mysterious and cold but he has a bubbly and very sweet and cheerful personality.
– On Feb 2021, He was on Weibo hot search fourfold because of "Zhengting's WeChat status is Granny Rong"(Villain from My fair princess) and his rant about his online purchase of Zoro's (One Piece) earrings being fake, he called out a SSF and posted a video of a car following him, "Zhu Zhengting new hair color" (he dyed his hair rainbow).
– His "Chapter Z"album sold 70K copies for the first 3 minutes, 100K copies were sold after 10hrs. The sales reached $700K in a month with a the total number of sales was about $16M USD.
– His name got called out once in the airport for being late as the flight was about to take off
– He has fanboys that are not shy to take pictures and videos of him in public
– Zhengting ranked 3rd on Most Marketable Artists/Celebrities of 2020 Tencent Entertainment White Paper
Zhu Zhengting's Ideal type
He once mentioned in an interview, that his ideal type is someone that has a Victoria Secret Model figure and must be gentle, filial, tall, long hair, well-dressed and mature in temperament or short hair, well-behaved and cute that can depend on him. The girl should give him a constant sense of dependency to him.
Zhu Zhengting Official Social Media Accounts
Weibo: THEO-朱正廷
Zhengting's Studio Weibo: 朱正廷正式营业中
Spotify: Theo Zhu & 朱正廷 
Youtube: NEXT playlist on Yuehua's Official YT
Instagram: theo_zhuzhengting318
Oasis: THEO朱正廷
Douyin: 朱正廷 NEXT_ZZT
QQ: 朱正廷
Zhu Zhengting Fandom Facts
Fandom  name: Pearl Candy (Zhēnzhū táng/珍珠糖)
Official fandom color: First Love Pink (初恋粉)
Weibo Official Fanclub accounts:
朱正廷全球粉丝团
朱正廷小蚌壳官博
朱正廷_数据存糖罐
初恋桃气包_
他是清风月_
想你了那就见面吧
今天也是修仙的董小姐
Zhu Zhengting's Album/Singles
Empty Space ft Wang Ziyi | 2020
Chapter Z (Flip, 都要好好的 Must be Good, 旁观者 Bystander) | 2019
活著的時間 (Time to Live) | 2019
Hi Buddy – Memory Nine Percent | 2019
待签收 (Waiting for a Sign)  | 2019
You're My Light | 2019
Green Christmas | 2018
Want U – NEXT TO YOU | 2018
冬日告白 (The Winter Light)| 2018
TV Drama/Movie appearances
Novoland: The Princess From Plateau (九州·朱颜记)  [Yi Wu You] | TBA (Currently filming Nov 2020- up to present)
The Silence of the Monster (孤独的野兽)  [Luo Bin] | set to air this year (2021) on Youku
Vanguard [Shen Diao] | 2020
Marna [Li Cong] | 2018
Variety Show Appearances
To The Top (Dance Mentor) | TBA (2021)
Super Hit Season 1 | 2020-21
Let's Fall In Love Season 2 | 2020
Sisters Who Make Waves | 2020
The Greatest Dancer (Dance Mentor) | 2020
Woof Meow Story | 2020
Youth With You Season 2 & Youth With You VIP (Guest Mentor)| 2020
The Protectors | 2019
Masked Singer Season 4  | 2019
Let's Fall In Love Season 1 | 2019
Meet at Temple of Heaven | 2019
Attention, All Visitors | 2019
IQIYI 2019 Fan Fiesta  | 2019
Master in the House | 2019
Beautiful Youth | 2019
Youth With You (Senior)| 2019
More Than Forever | 2019
We Are Not At Home Tomorrow | 2018
Space Challenge | 2018
Fantasy Restaurant | 2018
King of Bots | 2018
Brave World | 2018
Truth! Flowers and Everything | 2018
Nine Percent: Flower Road Journey| 2018
Keep Running: Season 6 | 2018
Happy Camp | 2018, 2019, 2020
Idol Producer (Trainee) | 2018
Produce 101 Season 2 (Trainee) | 2017
Zhengting's Latest Stage
Zhu Zhengting's Endorsements (Present)
Vans
LANEIGE
Valentino
Hugo Boss
Perfect Diary
Kimberlite Diamond
Fuguang
Marubi
Star Sugar
Watsons Bird's Nest Bird's Nest
Watsons Distilled Water
Green Vegetable Carpool
Bosadeng Winter Coats
Awards and Nominations
Most Popular Group of the Year (乐华NEXT) Douyin Star Night Awards | 2021
Hot Fashion Artist of the Year (Sina Fashion Style Awards)| 2020
Sustainable Development of Fashion Brands of the Year Award (Sina Fashion Style Awards)| 2020
Best Male Group of the Year (乐华NEXT) JSTYLE Awards | 2020
Leap Idol of the Year (MAHB Awards) | 2019
Public Welfare Ambassador of the Year (HELLO Children's Charity Project) | 2019
Rank 65th Most Beautiful Face in Asia (TCC Asia Pacific) | 2019
Rising Star (Figaro Fashion) | 2019
Fashion Influential Male Star of the Year (Sohu Fashion Festival) | 2019
Annual Rising Star of the year (Baidu Annual Conference) | 2018
Most Handsome Male Idol of the Year (COSMO Fashion Beauty Ceremony) | 2018
Charity Ambassador of the Year (16th Esquire Man At His Best Awards) | 2018
Popularity Supernova (Netease Awards) | 2018
"Xingquan Cup" Student Repertoire Dance Competition of Shanghai Theatre Academy | 2014
Champion of Chinese Dance Performance Competition of the Secondary Vocational Group in the National Vocational College Skills Competition | 2014
Zhengting's Dance Cover – FLIP
---
This profile is made by @MokaZhengting on Twitter.
You can also follow @zhengsquared, @MokaZhengting, @TheoZhengtingTH and @ZhuzhengtingT for more Zhu Zhengting contents.
Please do not repost the information on this site without proper credit or permission from its authors.