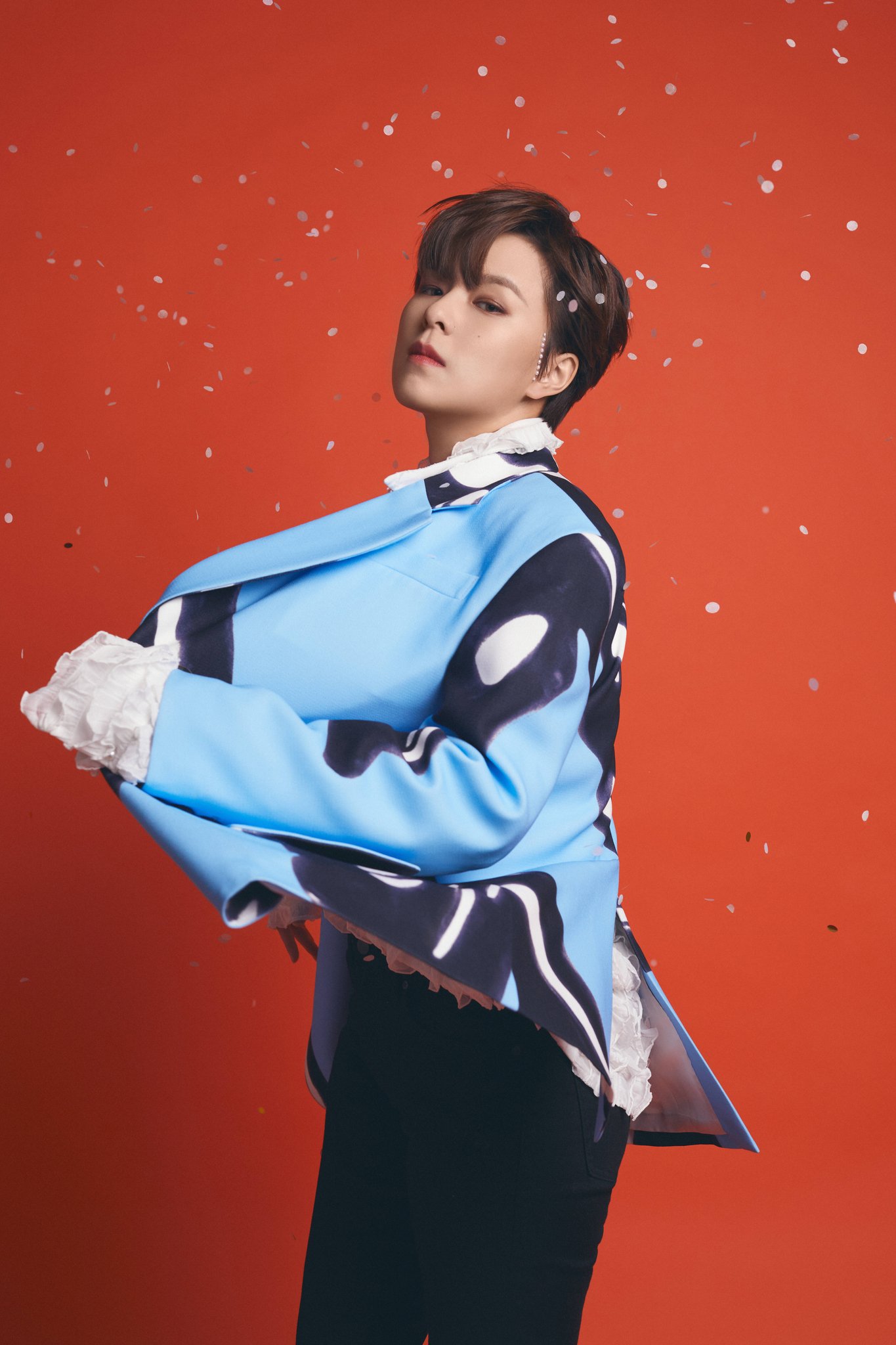 Name: Sunnee
Chinese Name (Simplified):  杨芸晴 (Yang Yunqing)
Thai Name: Kewalin Boonsattha (เกวลิน บุญศรัทธา)
Nicknames: Boss Yang, Qing Qing, Nee, Qing Er Mei Mei
Nationality: Thai Citizen
Gender: Female
Birthday: September 28, 1996
Place Of Birth: Bangkok, Thailand
Zodiac Sign: Libra
Chinese Zodiac Sign: Rat
Height: 170 cm
Weight: 56 kg
Occupation: Singer, Actress
Agency: K-L Entertainment
Music Label; Universal Music
Associated Acts: Rocket Girls 101 (火箭少女101) ; A'N'D
Sunnee's Official Social Media Accounts
Weibo: Sunnee杨芸晴
Sunnee's Studio Weibo: Sunnee杨总工作室
Spotify: Sunnee杨芸晴
Instagram: nee_kewalin
Oasis: Sunnee_杨芸晴
Douyin: Sunnee杨芸晴
QQ: Sunnee杨芸晴
Sunnee's Fandom Facts
Fandom name: Sunstars (Tai Yang Xing / 太阳星)
Official fandom color: Red Gold
Weibo Official Fan Club accounts:
星然艾妮
neenee的沛仔
SunneeFCThailand
一壶二锅头儿
My妃特工队丨杨芸晴
Sunnee Facts
– Sunnee is of half-taiwanese and half-thai ancestry
– She was the fangirl that was chosen by Huang Zitao when EXO had a concert in Thailand back in 2013.
– Her fandom name said to be 'Little Suns', but it was later changed because it collided with a senior artist's fandom name, 'Sunstars' was selected through a vote and ultimately chosen by Sunnee as her Fandom name.
– At the age of 15, Sunnee went to Taiwan to pursue her dream of becoming a singer while also staying connected to her Chinese roots
– Sunnee studied in Juang Jing Vocational High School in Taipei. During her stay, she was chosen by K-L Entertainment to become an artist under them.
– After graduating high school, Sunnee attended Jinwen University of Science and Technology and majored in tourism.
– On GTO Taiwan, Sunnee's only a cameo and she had long hair when they filmed it.
– Sunnee's also a cameo but she already cut her hair short when they filmed her on The X-Dormitory,
– She made her acting debut on 2014, starring as Ding Dang in Angel 'N' Devil.
– Sunnee ranked 6th in The Birth of A Star.
– She ranked 8th in Produce 101 China, making her debut in Rocket Girls 101.
– Sunnee shares a room with Duan Aujoan, and Xu Mengjie back in Rocket Girls 101 dorm.
– She doesn't like bananas and matcha.
– Sunnee doesn't eat beef and meat organs.
– She inadvertently touches her ears and nose when she is shy.
– Sunnee likes guys who cooks.
– She touches her earpiece on stage performances sometimes.
– Sunnee's favorite flower is sunflower.
– She had her first male partner in drama School Beauty's Personal Bodyguard.
– Sunnee has a talent in swimming.
– She can play Rubik's cube.
– Sunnee can play the guitar.
– She has a leg injury from practicing/training.
– Sunnee has allergic rhinitis.
– She used to wear tutu skirts when she was young because her legs are short.
– Sunnee loves seafood.
– She has been confessed to when she was in high school.
– Sunnee has another Weibo account where she view her fans posts about her.
– She was the lead singer and lead dancer of A'N'D, and was the lead vocalist and lead rapper of Rocket Girls 101.
– Sunnee's fans likes to edit a picture of her with long hair. She took one of it and it was in a room, hanging on the wall. – She also posted an edited long haired picture of her on Weibo on 2019.
– Sunnee and her fans most used word is 'I Can!' (我可以!). It doesn't state why they are using this word.
– She loves to challenge herself with high notes.
– Sunnee's favorite music genre is R&B.
– She once wore a long brown wig to test her fans and see if they will recognize her with the wig. In the end, they didn't know it was her until they heard her voice.
– Sunnee said that if she didn't made it on Top 11 and debut in Rocket Girls 101, she'll go back to Thailand to become a tourist guide.
– She said that she'll slowly try new styles from some time, and that there will be surprises in her image.
– Sunnee is afraid of the dark. She once said in an interview that she always have to sleep with the lights on.
– She once said that when they (K-L Entertainment boss) were choosing for her stage name, they chose Sunny because her Chinese name is connected with weather. But it's already a common name in showbiz, so they decided to change '-ny' to 'nee', and it became Sunnee. They chose '-nee' because it's her Thai name, Neenee.
– Sunnee's first album is entitled 《天气:晴》 (Weather: Sunny in exact English translation). The Original English name of her album is 'How's The Weather Today?', and the origin of the English name came from her first fan club.
– It was K-L Entertainment's boss decision to make Sunnee's hair short, because they believe she gives off different vibes with short hair than long hair. Sunnee also said that people became friendly to her after cutting her hair short.
– Sunnee's mom loves to braid her hair when it was still long.
– Despite her neutral or androgynous style, Sunnee still wishes to wear a wedding gown someday.
– She is scared of bugs.
– Despite her skills in acting, Sunnee's focus will be on making music.
– Sunnee is known as 'Catchy Movements Queen' because she choreographed catchy dance steps on her performances twice. She is known in Produce 101 because of her 'Motorcycle, make-up, and catching stars' move on her company group, Hao Girls, performing Pu Tong Disco. On We Are Blazing, she thought of the 'Swipe saliva – flying kiss' move on Rocket Girls' performance of Mei Fei Se Wu.
– Sunnee is known for her luck of chasing and meeting her idols in China. She even have a collaboration with her idol, Tao, 'Like A Child' on her first solo album. She also have a signed album of Deng Ziqi despite having her name misspelled.
– As per Zhang Jie, he said that Sunnee has expressive eyes. And because her expressive eyes, some people get startled or blushes when she looks at them.
– Sunnee released her first solo album 'How's The Weather Today?' on the same day of her birthday, September 28.
– She released her first Thai Single, Thai Version of By Your Side on June 10. She will sing it on her concert at Beijing (Encore), June 20.
Sunnee's Album/Singles
TaTonYon…Hurry Up! ft Vrya | 2021
Brave the Winds and the Waves | 2021
Belong To You | 2020
How's The Weather Today? | 2020
Things I Do For Love | 2020
Look At Yourself | 2019
Qing Ge | 2019
That Me | 2019
Sunny | 2018
Don't Cry | 2018
TV Drama/Movie appearances
Hottie Has Demonic Temperament | 2018
KO One: Re-call [Lan Sichun] | 2018
School Beauty's Personal Bodyguard [Feng Xiaoxiao] | 2015
Ange; 'N' Devil [Ding Dang] | 2014
The X-Dormitory | 2014
GTO Taiwan | 2014
Variety Show Appearances
Young Forever (TBA) | 2022
Mars Intelligence Agency Season 6 (TBA) | 2021
Fresh Chef 100 Season 2 | 2021
Twinkle Love | 2021
The Treasured Voice Season 2 | 2021
Shine! Super Brothers | 2021
The Shape of Culture | 2021
Goose Gala | 2021
Mars Intelligence Agency Season 5 | 2020
Super Hit | 2020
Hello Life Season 2 | 2020
Top Glory Moment | 2020
Super Nova Games Season 3 | 2020
We Are Blazing | 2020
Rampaging 20's Season 2 | 2020
Mask Singer Season 4 | 2019
Only 3 Days (Guest) | 2019
Super Nova Games Season 2 | 2019
Let's Sing Together | 2019
The Coming One 3 (Guest) | 2019
Produce Camp (Guest) | 2019
Super Penguin Alliance: Super 3 (Basketball Team Manager) | 2019
Day Day Up (Guest) | 2019
Rampaging 20's| 2019
Roast: Season 3 | 2018
Super Nova Games | 2018
What For Picnic (Guest) | 2018
Idol Hits (Guest) | 2018
The Coming One 2 (Guest) | 2018
Rocket Girls 101: Reality Show | 2018
Produce 101 (Trainee) | 2018
The Birth of A Star (Trainee) | 2018
100% Entertainment (Guest) | 2014-2016
Goddess 21 | 2015
Global Hokkien Singing Competition (Trainee) | 2011-2012
Sunnee's Latest MV
Sunnee's Endorsements
EVM Master
Dove
YSL Beaute
Bioderma
Little Ondine
Max Factor
Biotherm
Eucerin
Atelier Cologne
NARS
Awards and Nominations (Individual/Group)
Quality Musician of the Year at Madame Figaro Fashion Gala | 2021
Top 10 Best Stage Award at Super Hit | 2021
2020 iFeng Fashion Choice | 2020
Cosmo Glam Night 2020 Mageline | 2020
Fashion Talented Singers of the Year (iFeng Fashion Choice) | 2020
Fashion Fearless Person of the Year (COSMO Glam Night) | 2020
All Media Recommended New Artist of the Year | 2019
Weibo Star Shine Goddess | 2019
Most Popular New Influence 2019 | 2019
Top Ten Golden Melody Awards (Calorie – Rocket Girls 101) | 2019
2018 Popular New Artist | 2018
Artist Influence Leaderboard Top 10 New Artist of the Year | 2018
Chinese Song Music Festival Annual Most Popular Band and Combination Award (Rocket Girls 101) | 2018
Tencent Video Starlight Festival Annual Group Award (Rocket Girls 101) | 2018
Tencent Video Starlight Festival Annual Most Popular Music MV Award (Light – Rocket Girls 101)| 2018
Concerts/Tours:
Sunnee held her first concert tour called "Sunstar Party 2021 Tour" on April 03, 2021 at Beijing Station TANGO, April 23 & 24 at Hangzhou Damai 66 Live House, March 01 & 02 at Guangzhou MAO Livehouse, March 08 & 09 at Shanghai MAO Livehouse, March 29 at Chengdu, and June 20 at Beijing (Encore)
---
This profile is made by addiekxlei on Twitter.
You can also follow @SunneeFCThailand and @SunneeGlobalFC on twitter to see more of Sunnee.
            Please do not repost the information on this site without proper credit or permission from its authors.